The first Saharan dust event of the year moves into Florida this weekend.
The dust has been rolling across the Atlantic and the Caribbean over the last week and looks poised to move into the sunshine Saturday and Sunday.
The Saharan dust does indeed come from the Saharan desert in Africa.
Strong winds over Africa pick up the dust and deposit it into the upper levels of the atmosphere.
From there, winds slowly transport dust across the Atlantic and into the Caribbean.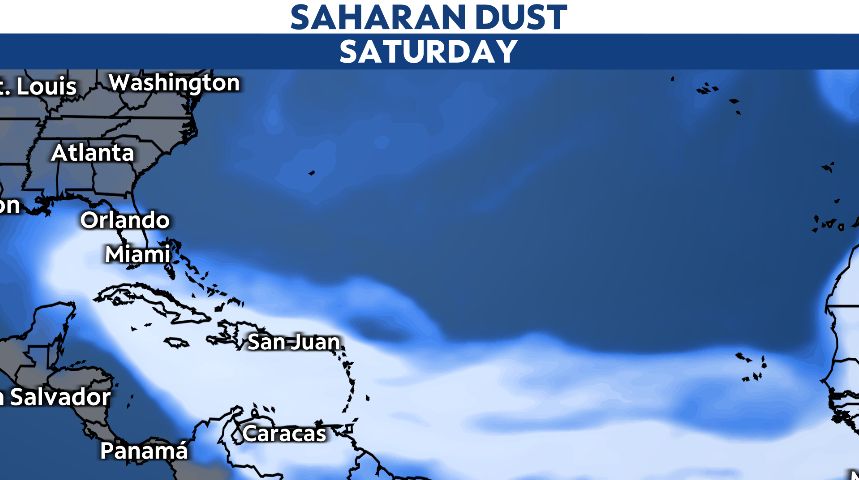 Some plumes of this Saharan dust eventually lift northwestward toward Florida, with the first one of the season likely arriving this weekend.
Because the dust is well above the ground, it refracts the light from the sun, resulting in vibrant sunrises and sunsets.
You may also notice a bit of a haze in the atmosphere during the daytime hours.
The real power of the Saharan dust is the reduction of tropical activity.
The Saharan dust also has an official name, the Saharan Air Layer, or SAL.
This dust helps dry out the upper levels of the atmosphere, helping suppress tropical development.
The strong winds that transport the dust can also create wind shear, which is very detrimental to tropical systems.
This is the first of likely many rounds of Saharan dust to impact the state. The peak of the Sahran dust normally occurs in June and July.
This round of Saharan dust will not eliminate the moisture in the atmosphere. Elevated rain and storm chances remain in place for the weekend.
The first plume of dust is also a strong reminder that hurricane season is right around the corner. It begins on June 1.