At the start of the week, Camila and Alina Arzate were the only unvaccinated members of their household — but that all changed Monday when the pair received their first dose of the COVID-19 vaccine.
---
What You Need To Know
According to the Florida Department of Health, only 9% of children aged 5 to 11 have been vaccinated for COVID-19


Among those aged 12 to 19, though, that number increases to 57%


Pediatrician Dr. Mohammad Afzal says that if vaccinations among children keeps going up, the number of COVID infections will continue to drop
---
"This is the first time I did this," 7-year-old Camila said after getting her shot at Olympia High School. "I don't know if it was like the other shots."
She said she feels fine after the a shot in her right arm, covered now by a pink Band-Aid. For her mother, seeing her girls get a Covid vaccine now gives her peace of mind.
"Whatever I can do, I do it," Vanessa Arzate, who also is vaccinated, said. "Because I am very scared of this virus. So whatever I can do, I do it."
According to recent data released by the Florida Department of Health, only 9% of children age 5 to 11 are vaccinated. Among those aged 12 to 19, however, 57% are now vaccinated.
Pediatrician Dr. Mohammad Afzal said since the omicron variant was reported in the U.S., he has seen more urgency from parents to get their children vaccinated.
"We have seen a little bit of uptick with the vaccination rate after this omicron variant came on," he said. "So we have seen some more parents are coming in and getting their children vaccinated."
Afzal also said parents he's talked to admit to being hesitant to give their child a vaccine because of how quickly it was made, despite receiving emergency use authorization from the Food and Drug Administration and continued monitoring by the Centers for Disease Control and Prevention.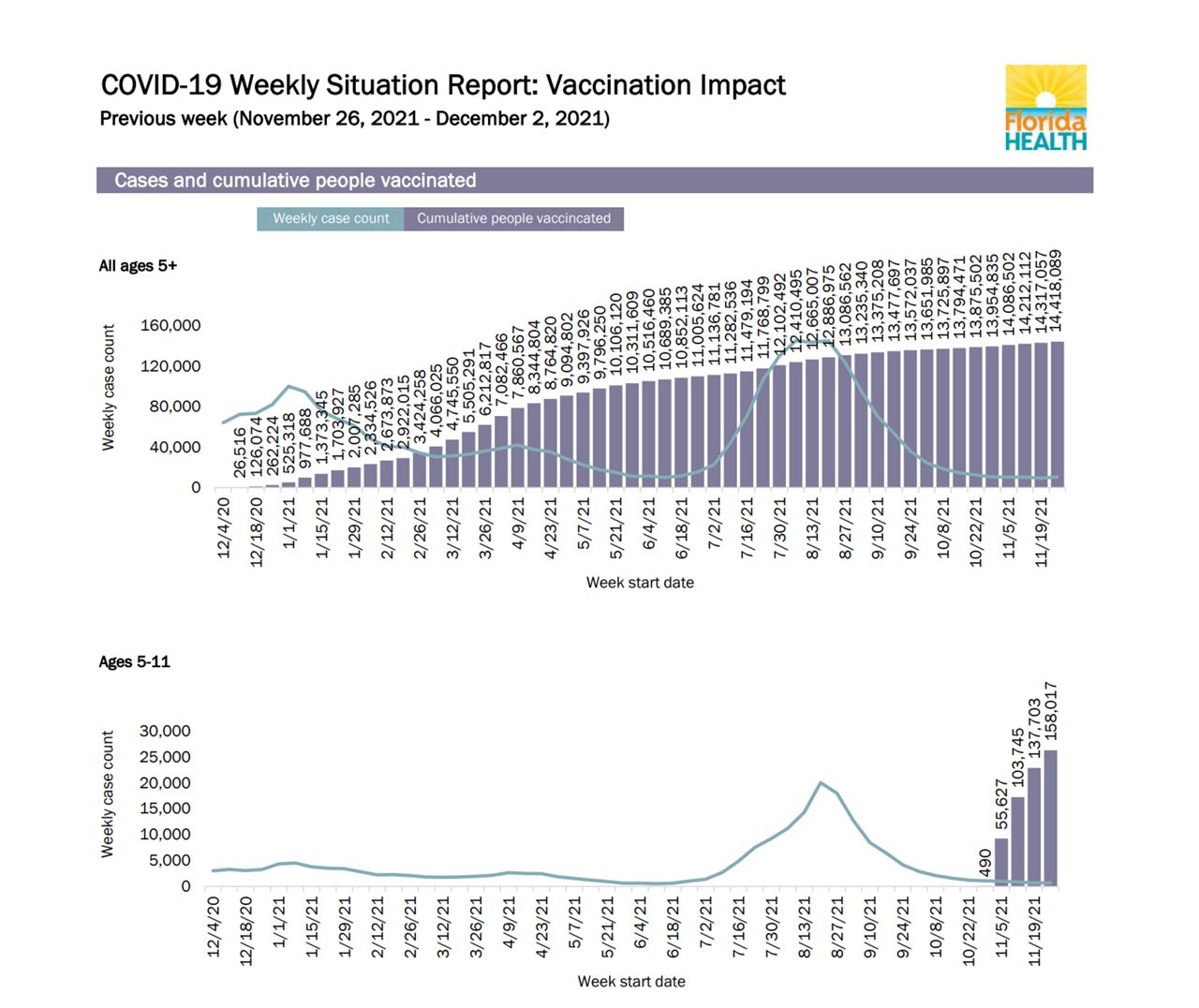 Vanessa's oldest daughter, Laura, lives at home while going to college. She said seeing her little sisters get vaccinated is important.
"I am going to start working in a clinic," Laura said. "It's very important for me to be able to come home and know that I have that protection, and my family does too."
While vaccinations rates among those aged 5 to 11 are slowly going up, data from the Florida Department of Health show the number of new weekly cases is going down.
For 12 to 19 year olds, the data shows the same thing starting in August.
Afzal said that's because vaccines work.
"If more people will get vaccinated we will not have a lot more variants coming," he said. "We can get over the variants and then we can get over this pandemic."
For those parents who may be on the fence, Afzal said that not only have all his patients finished their vaccines as scheduled, but of all the patients he has either vaccinated or knows were vaccinated, he has had no parents inform him of any children having a side effect from the vaccine.