ST. PETERSBURG, Fla. — Experts with the Florida Fish and Wildlife Conservation Commission announced a disturbing record Wednesday — more than 1,000 manatees have been reported dead since the start of the year.
That's up more almost 400 deaths from all of last year.
---
What You Need To Know
So far in 2021, 1,003 manatees have died in Florida, Florida Fish and Wildlife Conservation Commission officials say


That is significantly more than the previous record of 830 set in 2013


Manatees' food supplies have dwindled due to water pollution and climate change


The FWC is seeking $7 million from the state legislature to help save them
---
It's lunch time for not-so-little baby Picadilly — Tiffany Burns at ZooTampa is feeding her a special formula made just for manatees.
Picadilly is one of four orphaned manatees currently being rehabbed at the zoo.
"These manatees are all under a year old, so they would be getting milk from mom, said Burns, who is ZooTampa's director of conservation, research, and behavior. "So we want to give them the nutrition they need to grow the way that they would in the first two years of their life."
ZooTampa is taking care of 18 manatees total right now — a number that is uncommonly high, Burns said.
"Something different that we've seen this year that we don't normally see, and it's a bit concerning," she said, attributing much of the increase to this year's surge in manatee deaths.
"We saw a huge increase in numbers over last winter up through March — February was probably the hardest month," Burns said. "And it's because of that loss of vegetation."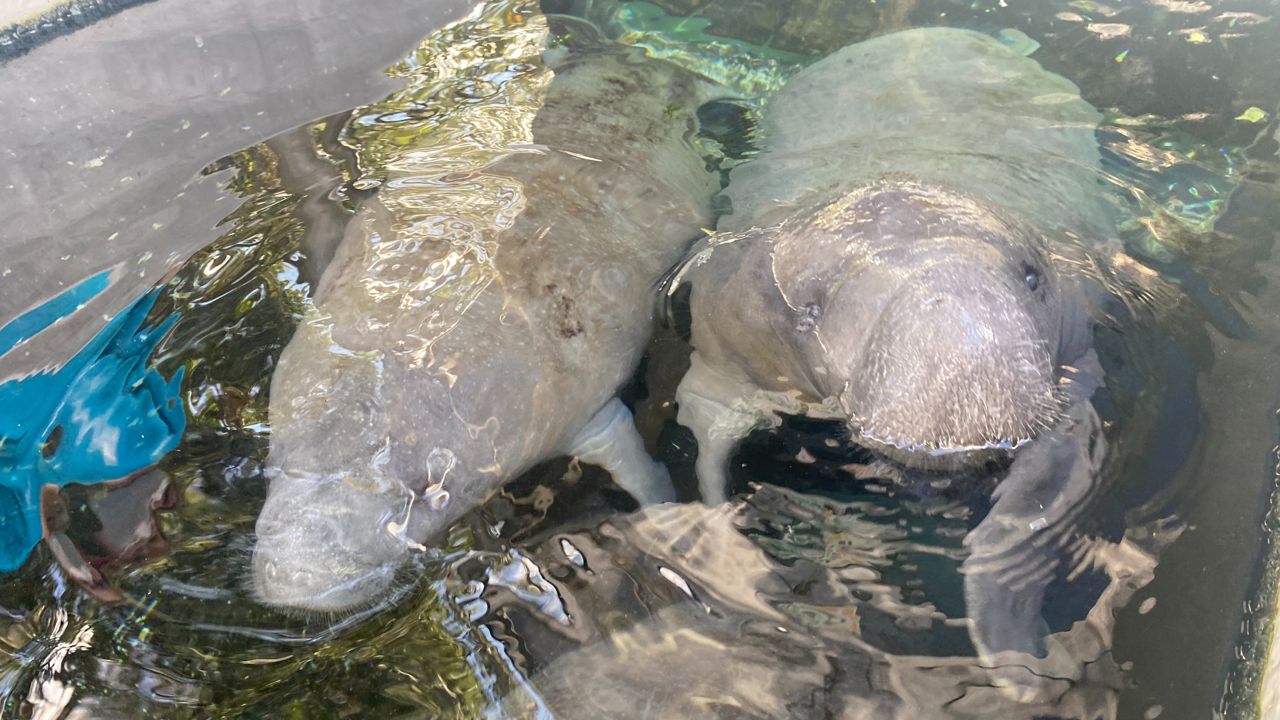 A big part of the problem is due to algae blooms, which ZooTampa says could be prevented if people do their part in preserving water quality. (Spectrum Bay News 9/Ashley Paul)
Many of the manatees that died this year starved, she said.
"The lack of vegetation is a combination of several problems, but it ultimately comes down to water quality," said Burns. "The grass isn't able to grow and survive."
A big part of that is due to algae blooms, which Burns said could be prevented if people do their part in improving water quality. People can do that by not using dangerous fertilizers, being mindful about what goes down their drains, and paying attention to pollution when out on the water, she said.
"Definitely we're here and we care for these animals day and night," she said.
So, as Burns and her team care for Picadilly and her friends, she hopes the public will do their part in caring for the manatees still living out in the wild.
"It is really going to be up to everyone to help save this species," said Burns.
Officials at ZooTampa are hoping for legislation that will put the manatees back on the endangered list, which will help with funding and resources to maintain the species.
Right now, they are listed as threatened.
Authorities are expecting another bad year for manatees, with more deaths to come as Florida enters the winter months when the animals congregate in warm-water areas where food supplies have dwindled. Seagrass beds on the state's eastern coast have been hit especially hard.
To compound the problem, manatees are slow to reproduce. According to the nonprofit Save the Manatee Club — co-founded by Florida troubadour Jimmy Buffett — one calf is born every two to five years after a manatee reaches sexual maturity at about age 5. Twin births are rare.
The Associated Press contributed to this story.