ORLANDO, Florida — Another highly-traveled Interstate 4 exit ramp will soon move for the "I-4 Ultimate" project.
Exit ramp from eastbound I-4 to Lee Road moving soon
Lee Road exit ramp merging with Fairbanks Avenue ramp
FDOT says move is temporary for I-4 Ultimate work
The Lee Road exit ramp from I-4 eastbound (exit 88) will be combined with Fairbanks Avenue entrance ramp — meaning that you'll need to exit a half-mile sooner if you want to exit onto Lee Road from eastbound I-4.
The Florida Department of Transportation said that the configuration is temporary, allowing workers to complete bridge work on the permanent eastbound lanes ahead of opening the entire new section of I-4 between State Road 50 and State Road 414 next year.
Transportation officials didn't provide an exact date and time for the move but said the Lee Road exit shift could happen as soon as Wednesday morning.
"I-4 Ultimate" is a $2.3 billion FDOT project to add and update 21 miles of I-4 between Kirkman Road and State Road 434.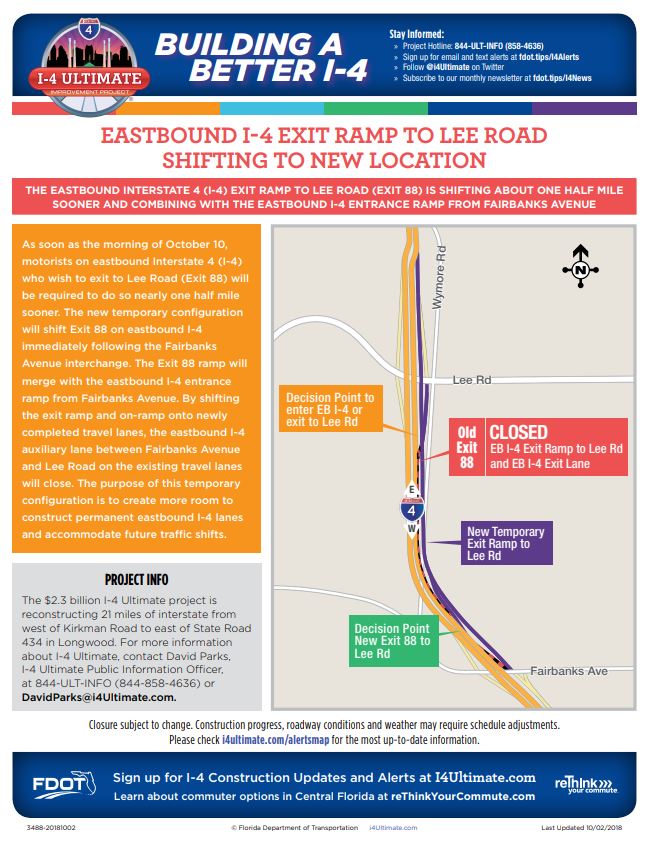 (Map provided by Florida Department of Transportation)