KENNEDY SPACE CENTER — The first ever all-civilian launch crew successfully splashed down off the Florida coast Saturday night, completing a historic 3-day space mission.
On Sunday, SpaceX officials and crews are awaiting the return of the rocket booster than launched the historic crew into space.
Along with accomplishing their mission to space and back, Inspiration4 also accomplished its fundraising goal of raising $200 million for St. Jude's Children's Hospital.
The Inspiration crew, Chris Sembroski, Sian Proctor, Jared Isaacman and Hayley Arceneaux, has had a busy 48 hours in space. In addition to doing interviews, and speaking with patients at St. Jude Children's Research Hospital, the crew had time to talk with a special guest: actor Tom Cruise.
Representatives for SpaceX's first privately chartered flight revealed Friday that the actor took part in a call with the four space tourists orbiting more than 360 miles up.
The first-ever privately funded trip to orbit wasn't just about scientific discoveries though.
---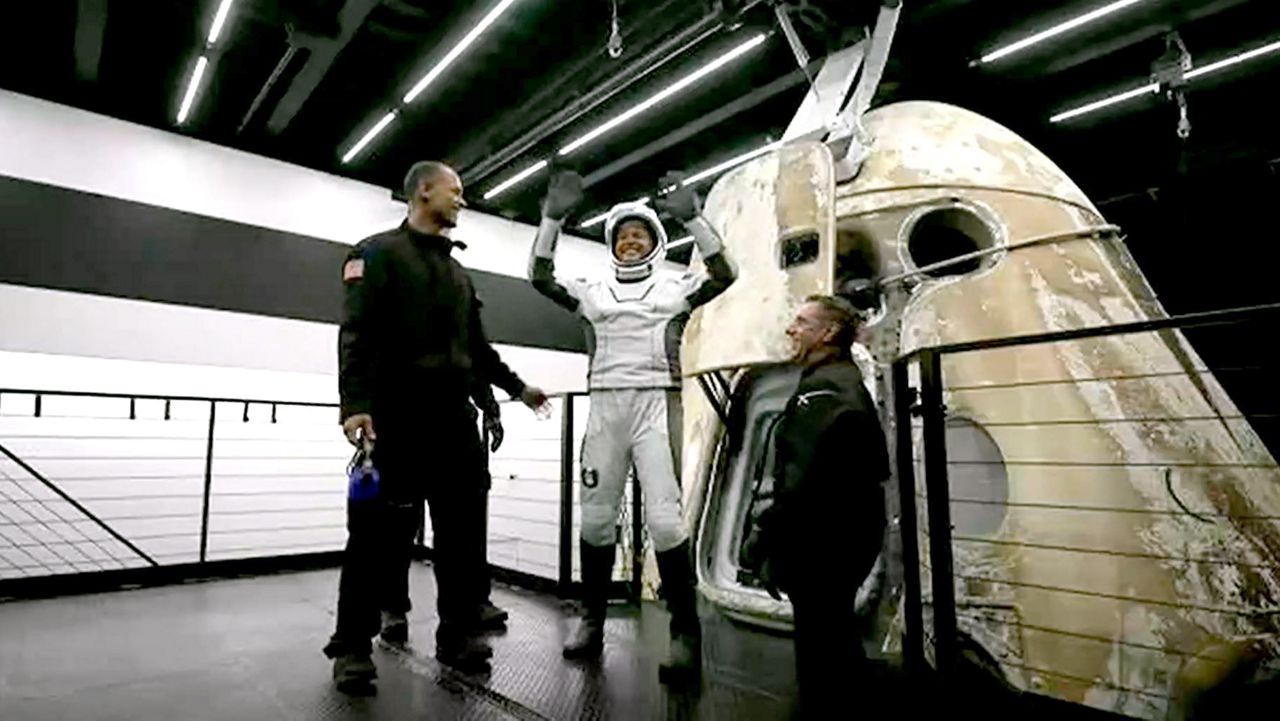 Inspiration4 crew member Dr. Sian Proctor exits the Crew Dragon capsule that has been her home for the past three days Saturday off the Florida coast. (SpaceX)
---
SpaceX founder Elon Musk took to Twitter after the capsule landed to congratulate the crew on their successful mission.
Congratulations @Inspiration4x!!!

— Elon Musk (@elonmusk) September 18, 2021
Isaacson, the mission's founder and commander, set that goal. And after the successful splashdown, SpaceX's Elon Musk pledged $50 million, pushing the fundraiser over that goal.​
"A big part of our mission here at Inspiration4 is to inspire what can be done here in space because there's an awful lot of it, and we've got to get out and explore it," Isaacson said ahead of the mission's launch. "But also our responsibilities that we need to take care of back on earth and top of our list right now is conquering childhood cancer that's why we're supporting St. Jude's."
Riding on SpaceX's Falcon 9 rocket, the Dragon capsule Resilience carried four crewmembers who are not professional astronauts or members of a government space agency.
The launch took off on time at 8:02 p.m. EDT on Wednesday from Launch Complex 39A at the Kennedy Space Center.
The #Inspiration4 Crew Makes Evening Splashdown, Completing World's First All-Civilian Orbital Mission to Space: https://t.co/NB4dV6DYgA pic.twitter.com/TTUVhkmnJF

— Inspiration4 (@inspiration4x) September 18, 2021
Spectrum News 13 reporter Jeff Allen contributed to this report.