Nicole became the fourteenth named storm of the Atlantic season on Nov. 7.
Nicole started off as a subtropical storm in the southwestern Atlantic. Nicole transitioned into a tropical storm just a day later as it moved west toward the northwestern Bahamas and the coast of Florida.
Nicole made its first landfall over Great Abaco Island in the Bahamas on Nov. 9, producing maximum sustained wind speeds of 70 mph.
While it struggled to reach hurricane status, Nicole eventually became the eighth hurricane of the season later that day prior to making its second landfall over Grand Bahama Island.
Waves and storm surge hit that region as Nicole came through.
Maintaining its strength, Nicole continued to head west, where it made its third landfall over North Hutchinson Island, Florida early on the morning on Nov. 10.
According to Dr. Philip Klotzbach, this was the latest hurricane landfall on the east coast of Florida on record, and the second-latest hurricane landfall on record for the continental United States.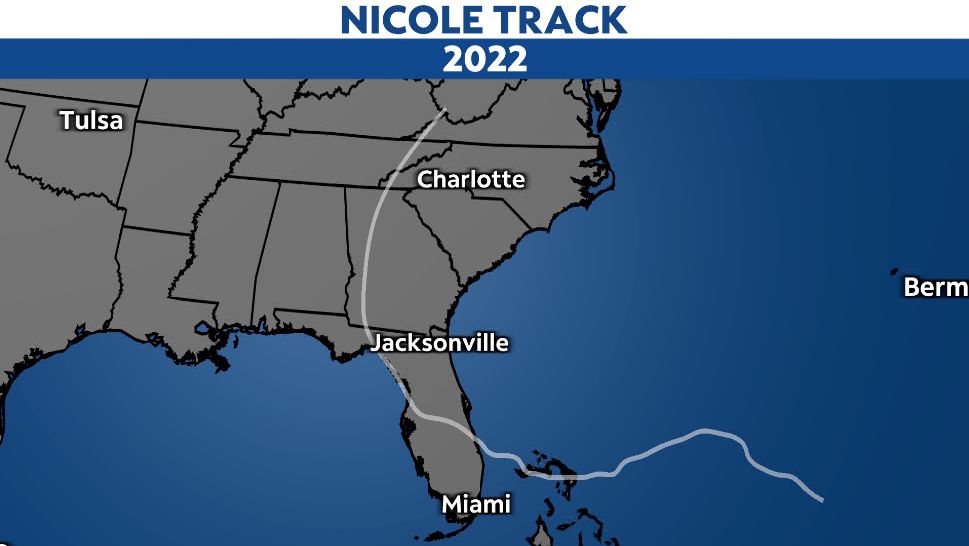 Heavy rain fell across the Orlando and Tampa areas, leading to pockets of flooding. Fortunately, amounts weren't as high as with Ian's extreme rainfall.
Along with tropical and hurricane-force winds and heavy rainfall, other impacts include numerous power outages, storm surge, coastal flooding and significant beach erosion.
Nicole's landfall on Florida's east coast comes about six weeks after Ian's on the state's west coast. In 2004, Charley and Jeanne also made landfall about six weeks apart, and in the same places as Nicole and Ian.
Nicole continued to weaken as it moved toward the northeast, but it still managed to bring gusty winds and soaking rain up through the Eastern U.S. into the second weekend of November.
See how the 2022 Atlantic hurricane season has gone so far.