Hurricane Ian produced historic rainfall totals for most of Central Florida, which led to record flooding.
The storm also pushed rainfall totals for this September to historic levels.
Areas along Interstate 4 saw the highest rainfall amounts.
There was a sharp cutoff in rain totals from Orange into Lake County, and for most of our western counties along Interstate 75.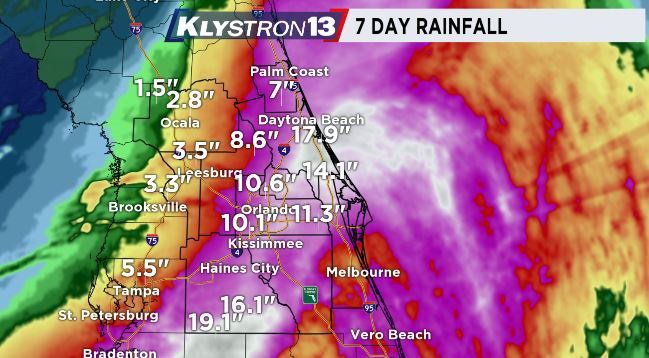 The rain from Hurricane Ian pushed Sept. 2022 to the rainiest on record for Orlando, Sanford and Daytona Beach.
The month easily surpassed 1945 for the wettest September on record in Orlando. The rainfall that month was 15.87 inches.
The Orlando International Airport finished with 22.42" of rainfall after Ian swept through. This was more than 16 inches above normal.
In 24 hours alone, Orlando International picked up more than a foot of rain from Ian, between Sept. 28 and 29.
The Orlando Executive Airport picked up nearly 20 inches of rain, too.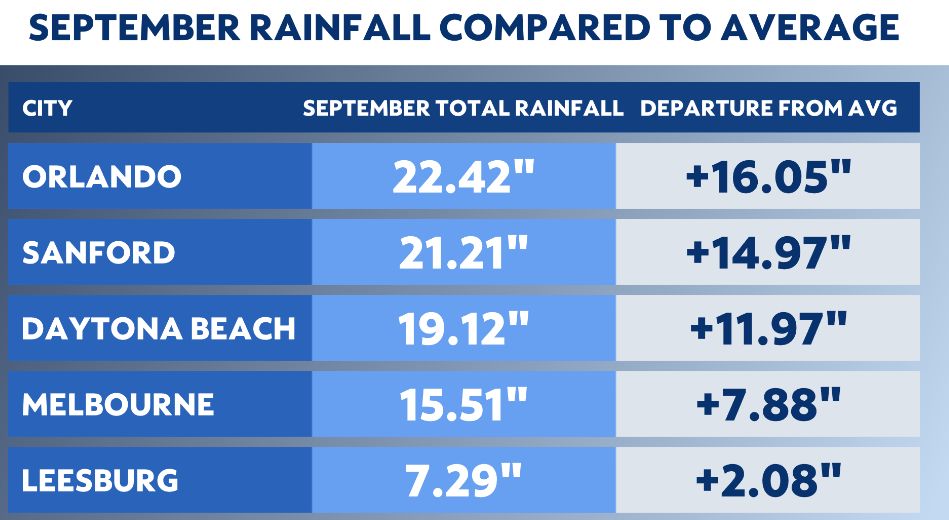 The northeast side of Orlando ended the month with 19.66 inches. This was more than 13 inches above normal.
In Sanford, over 21 inches fell for the month. That brought September to the rainiest on record there, too.
The rain from Hurricane Ian accounts for 68% of the total rainfall for the month, with more than 14 inches in just a 24-hour time span.
Ian's deluge also accounts for 23% of Orlando's total rainfall so far this year.
Daytona Beach picked up over 19 inches of rain. Daytona received more than 11 inches from Ian in 24 hours. This accounts for 58% of the total rainfall in September there.
All this rain led to historic flooding along the St. Johns River, the Little Wekiva River near Altamonte Springs and Shingle Creek in Osceola County–not to mention all the flooding that occurred around area lakes.
Our team of meteorologists dives deep into the science of weather and breaks down timely weather data and information. To view more weather and climate stories, check out our weather blogs section.