June is the month when Florida's rainy season kicks into high gear. But this year, we've seen completely different weather in the same month.
We started the month on a very dry and warm note. Despite the entrance into the rainy season in late May, the rainfall quickly diminished across the region.
The Orlando International Airport only received 0.39" between June 1 and June 12. This is well below the daily average of around 0.25".
But tropical moisture quickly surged back into the area on June 13. This, coupled with a frontal boundary trapped in north Florida, resulting in widespread rain and storms across the region.
Rain gauges across central Florida quickly filled up.
In the five-day stretch from June 13 to June 18, the Orlando airport received 1.51" of rain.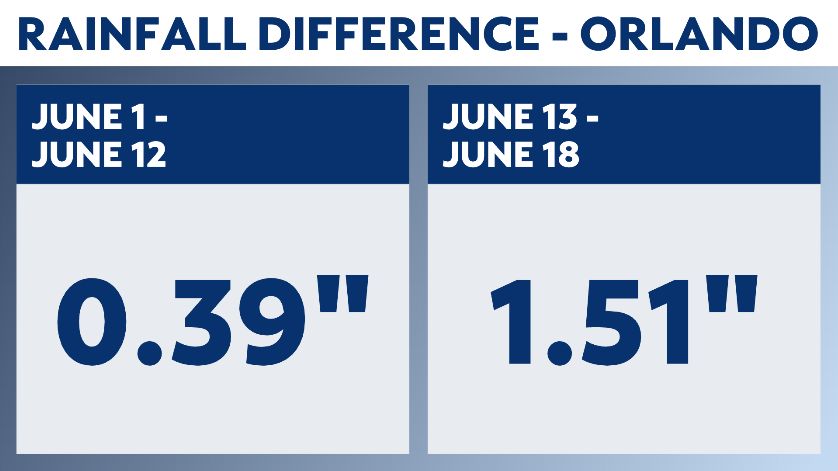 Even more impressive was the rainfall in Brevard County. Heavy rain hit the Melbourne International Airport the past several days, resulting in a five-day total of 3.73".
In fact, the only airport that has not seen significant rain the past few days was Daytona Beach, getting just 0.83".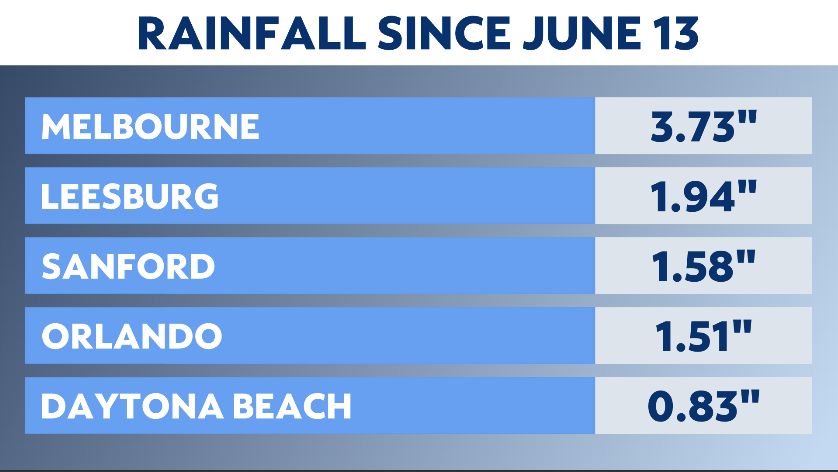 Will the daily rains continue heading into next week? The answer looks to be "yes."
Tropical moisture is again expected to surge into the area starting Sunday, increasing rain and storm chances across the region. The moisture surge will likely remain in place for most of next week.
And all the rain isn't bad news. Despite the heavy rain the past five days, some areas still need more.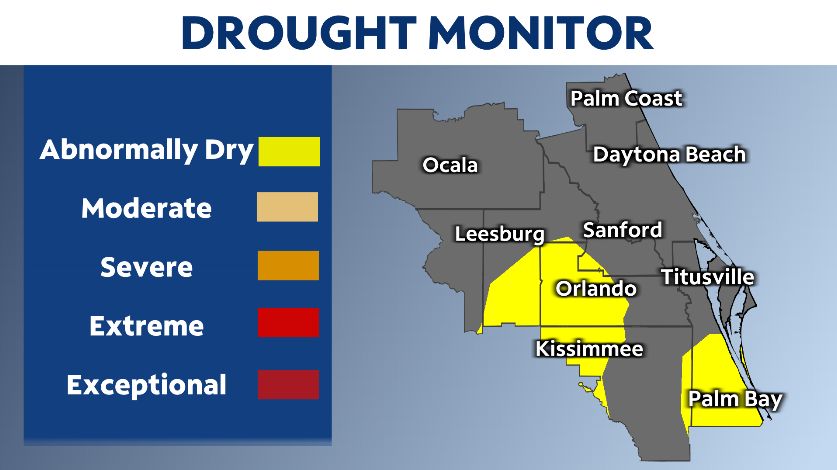 In this week's Drought Monitor, portions of metro Orlando and southern Brevard County are considered abnormally dry. In fact, Orlando is still running a rainfall deficit for the year.
So while it's been a tale of two Junes so far in 2021, the wet and rainy June looks to win out.