According to an exclusive Spectrum News/Siena College poll, likely voters in Florida would support banning "assault-style weapons," with 50% of respondents saying they supported the policy proposal. Nearly 46% reported they opposed a ban to some degree.
---
What You Need To Know
Floridians appeared split on gun issues ahead of November's election



---
When party lines are brought into the consideration, 67% of Republicans opposed a weapon ban, while 82% of Democrats supported the idea of a ban. Voters with no party affiliation weren't as polarized on the issue; 52% said that they opposed a ban.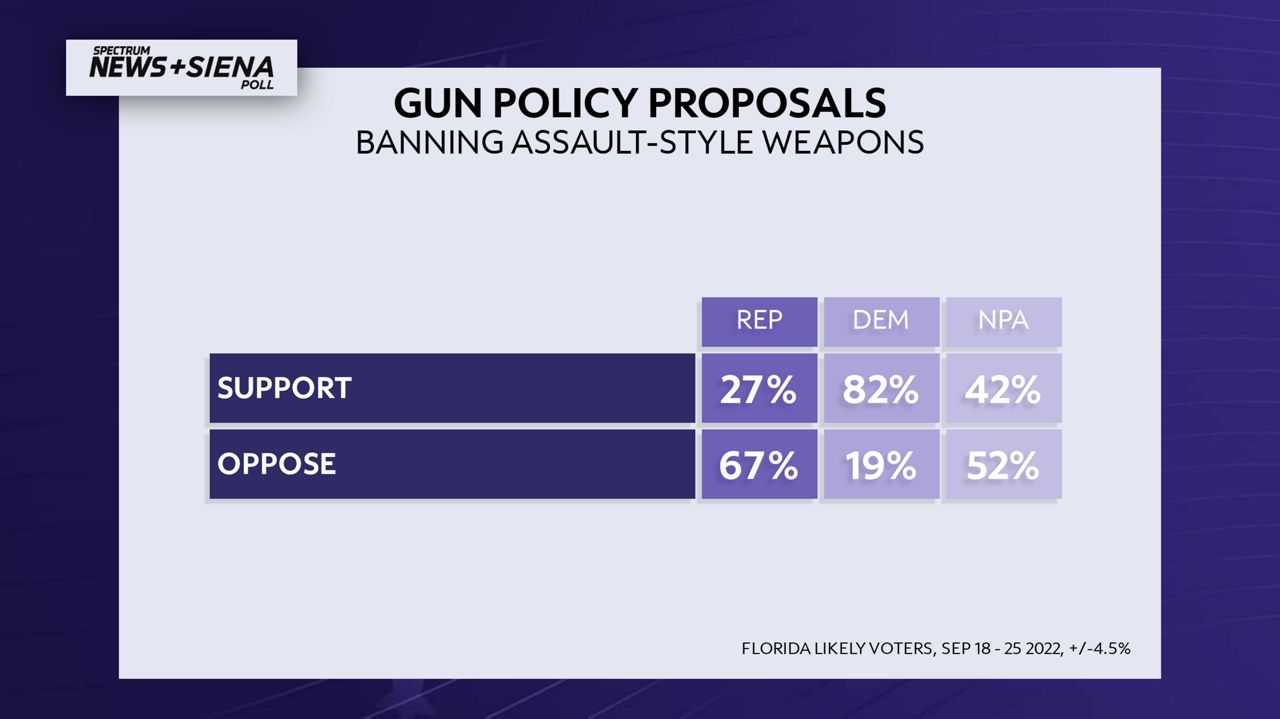 Males were also more likely to oppose a ban on "assault-style weapons," with 59% of male respondents, regardless of party affiliation.
The Associated Press Stylebook defines "automatic rifles" as fully automatic military weapons, which are currently illegal for a civilian to own or carry in the state of Florida. The Giffords Law Center says Florida law prohibits people from owning a machine gun that can be made operable, but federal law allows for a process for individuals to apply for ownership through the Bureau of Alocohol, Tobacco, Firearms, and Explosives, or ATF.
Assault weapons are defined as semi-automatic rifles and pistols that shoot one bullet each time the trigger is pulled. Semi-automatic weapons are currently legal to own and carry in the state of Florida with a concealed carry permit issued by the state following a background check.
Republicans were more likely to support arming teachers in schools, with 71% of right-leaning respondents claiming to support the measure. Democrats opposed the measure by 83%. Voters that weren't registered with any party were undecided on the issue, 48% supported the measure, and 46% were against it.
Overall, 50% of respondents opposed the idea, with 44% supporting the measure.
Currently, the state of Florida allows teachers to carry a gun in schools if they pass a state program called the "guardian program." This requires teachers to go through a series of training with weapons similar to that of a police officer.
The program was created in 2018 as a result of the Marjory Stoneman Douglas High School Public Safety Act.
"Guardians are armed personnel who aid in the prevention or abatement of active assailant incidents on school premises," according to the Florida Department of Education. "They are either school employees who volunteer to serve in addition to official job duties or personnel hired for the specific purpose of serving as a school guardian. Guardians must pass psychological and drug screenings and successfully complete a minimum of 144 hours of training."
Both Republicans and Democrats supported the idea of background checks for gun purchases. On the right, 77% of likely voters supported the idea, and 91% of Democrats supported it. Additionally, 85% of voters with no party affiliation also supported the measure.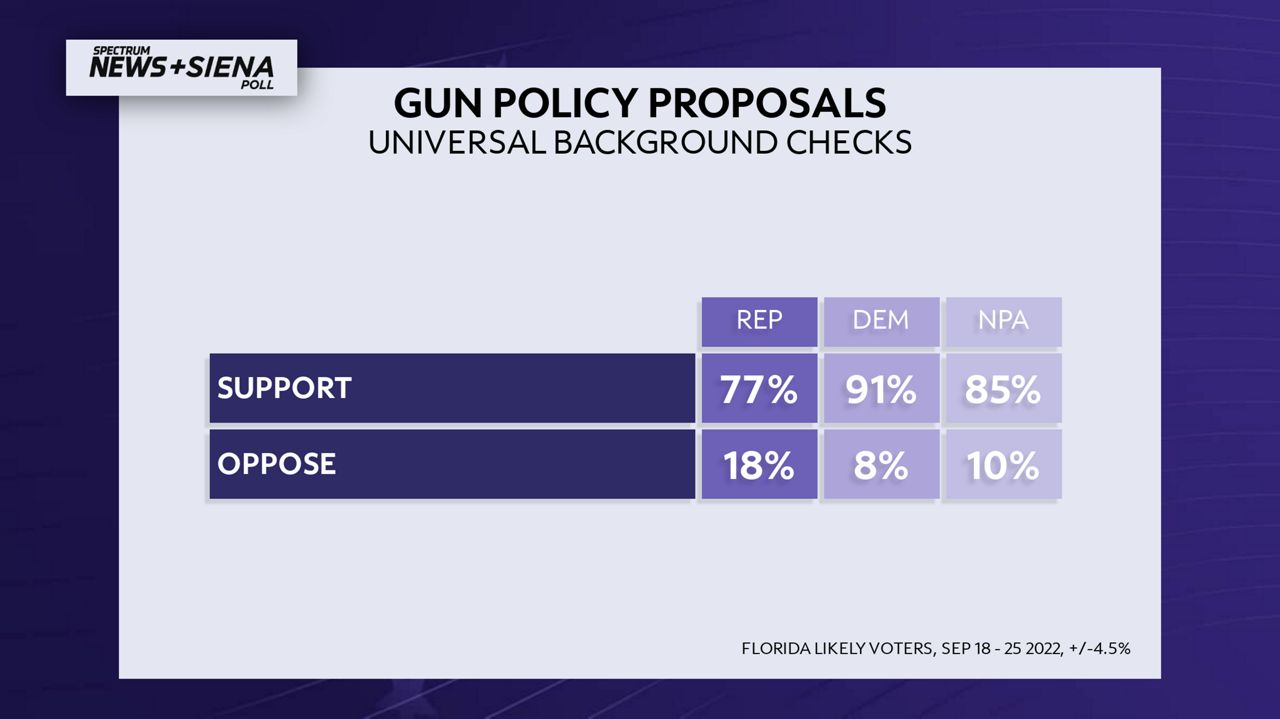 Overall, voters appeared concerned with other issues as their primary reason for voting. Only 5% of overall voters indicated that national gun policy was their primary reason to vote. Instead, 39% of voters indicated they cared far more about economic issues including inflation and the cost of living.
Local residents are divided on the gun issue, nonetheless. Robert Monrow is a gun owner, educator, and gun dealer owner of the EJR Gun Club in Orlando.
"I believe guns are political because it takes a lot of lives," he told Spectrum News. "People have focused more on the gun and not the person behind the gun."
Monroe said that he supports anyone's access to owning a gun, but believes that people need to be properly trained in order to safely carry out their right.
Florida Governor Ron DeSantis has discussed making the state a "constitutional carry" state, which would mean that Floridians could carry a gun openly or concealed without a permit or license from the government.
Former Governor Charlie Crist is more focused on increasing gun restrictions. He'd like to eliminate a loophole that could allow someone to obtain a weapon through a private party sale or in some gun shows.
This Spectrum News/Siena College survey was conducted September 18-25, 2022, by telephone calls in English to 669 likely Florida voters. Telephone sampling was conducted via a weighted stratified dual frame sample of landline and cell phone drawn from the L-2 database of registered voters. Data was statistically adjusted by age, race/ethnicity, education, political party, regional vote pattern in the 2020 election, a combined measure of stated and derived vote likelihood, and gender to ensure representativeness. It has an overall margin of error of + 4.5 percentage points including the design effects resulting from weighting.