ORLANDO, Fla. — The nation's amusement ride industry lacks a proper set of checks and balances, according to certified ride safety inspector Ken Martin. That's all the more reason he says an independent team should lead the ongoing investigation of last week's ICON Park tragedy, when 14-year-old Tyre Sampson fell to his death from the park's 430-foot Free Fall ride.
"We need to determine whether it was criminal or not," Martin said. "And I don't think the local sheriff's department, I don't think the Florida Department of Agriculture can be in that position because of the political climate regarding amusement rides in the state of Florida."
After nearly 30 years of working as a certified amusement ride inspector, Martin says he's been deposed hundreds of times, testifying in court about several amusement ride tragedies. He says ultimately, rides would be much safer — and many of these tragedies could be avoided — if the industry faced bigger consequences for its mistakes.
Right now, at a national level, fixed amusement rides are "self-regulated, so they can basically do what they want to do," Martin said. Fixed amusement rides, he says, are those permanently affixed to a concrete foundation at least 98 percent of the time; there are also portable rides, which are transported between places like carnivals and fairs.
"Yes, we have general consensus standards people use as a guideline," Martin said. But those guidelines, set by the American Society for Testing and Materials, aren't actually law.
"Even if somebody were to violate these consensus standards … there's no form of punishment or fine, a reprimand or anything like that," Martin said. "There needs to be more oversight, and it needs to come from the national level. It really does."
Ride manual versus ride reality
Since Sampson's tragic death Thursday night, Spectrum News has acquired the Orlando Free Fall's manual and learned the rider weight limit was roughly 286 pounds. In an interview with CNN, Tyre Sampson's father said his late son weighed roughly 330 pounds.
An image of Sampson and his friends on the ride that's been circulating on social media shows his shoulder harness wasn't properly positioned before the ride went up.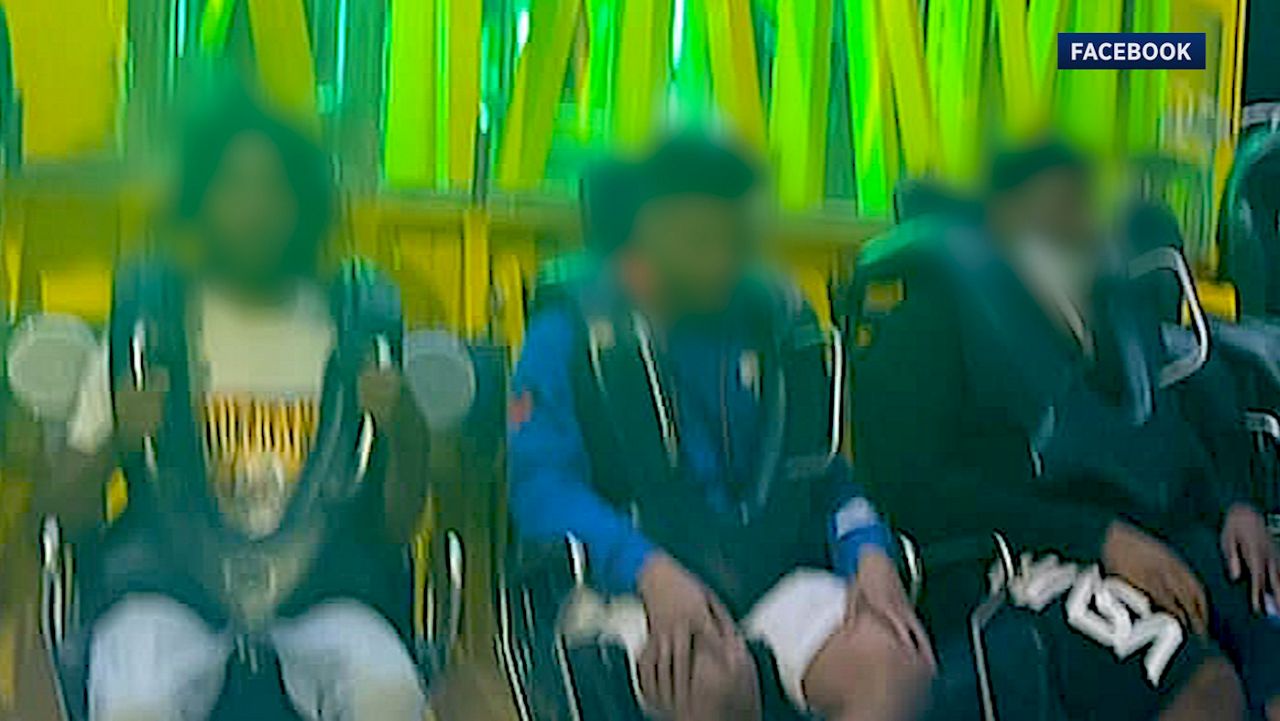 But ultimately, that responsibility doesn't fall on Sampson, or any other rider for that matter, Martin says. Rather, it's up to amusement ride operators to ensure their patrons meet all requirements to safely ride.
"This young, 14-year-old boy did not fit the ride. Therefore, the owner/operator should have restricted him from the ride," Martin said. "They failed miserably."
The ride's manual also mentions passengers must be at least 125 centimeters tall, so the shoulder restraint "and seat belts" will properly fit. But the Orlando Free Fall at ICON Park has no seat belts.
There's only one other version of this specific ride in existence: Dollywood's Drop Line ride, which has also been temporarily closed following Sampson's death. However, the ride manual Spectrum News obtained referencing seatbelts clearly specifies: it's for the Orlando Free Fall.
When asked why there might be such a discrepancy, with the manual referencing seat belts that don't actually exist on the ride, Martin didn't hide his frustration. Such discrepancies on amusement rides are unfortunately nothing new to him, he says.
"Welcome to my nightmare," he said.
"You are the last inspector"
Meredith Sowers, an avid theme park fan, said she felt personally affected by Sampson's death. The Kissimmee mom and Disney fanatic is now reflecting on her past experiences on thrill rides, and how she'll feel about riding in the future.
"It's an absolute tragedy," Sowers said of Sampson's death. "I've always been fearful of hearing that something like this has happened."
She says she's especially perturbed by the fact Sampson was likely too large for the ride.
"Personally, as somebody especially who is larger in size, I'm always self-conscious as to whether or not I'm gonna fit on the ride," Sowers said. "And even if I do, to their standards, I always have anxiety as to really, whether or not I am truly safe."
She doesn't really have any suggestions for polite ways staff could decline guests who weigh too much for a given ride. But that's not something staff should be worried about anyway, Sowers says.
"You know what? Those workers — they're gonna ruin people's days," Sowers said. "But know, at least, you're saving a life. And honestly, that is more important."
Although she hasn't ridden the Orlando Free Fall – and doesn't plan to, assuming it reopens – Sowers says she enjoys other thrill rides, including Disney Land's 183-foot-tall Guardians of the Galaxy. A few times in the past, she says she felt impatient waiting for ride operators to complete their safety checks. But now, Sowers says, she fully realizes why operators must be so careful.
"It's all about safety, and sometimes we just need to take a step back and realize that they're doing their job for a reason, and we should feel secure on the ride," Sowers said.
At least, that's the ideal. But given how fragmented the amusement ride industry's regulatory system is, Martin says, it's crucial for riders to be vigilant, too.
"You, yourself, are the last inspector when you get on a ride," Martin advised. "If something doesn't look, sound or feel right: stop."