ORANGE COUNTY, Fla. — UCF Police, Orlando Police and the Orange County Sheriff's Office have been investigating a rise in catalytic converter thefts since the beginning of the year. Over the weekend, OPD made a big bust, arresting two men from Texas who had 31 stolen catalytic converters found in their hotel room.
One week ago, Sharon Kaufmann had her convertor stolen while staying at the Crown Plaza hotel near Universal. She parked her car under lights and feet away from a security camera, but it did not deter the thieves.
"It sounded like a Harley Davidson," Kaufmann said describing what her car sounded like when she started it. "Like one of those big motorcycles starting and the whole thing was shaking."
The problem wasn't under the hood. It was under her seats — her catalytic converter cut right off.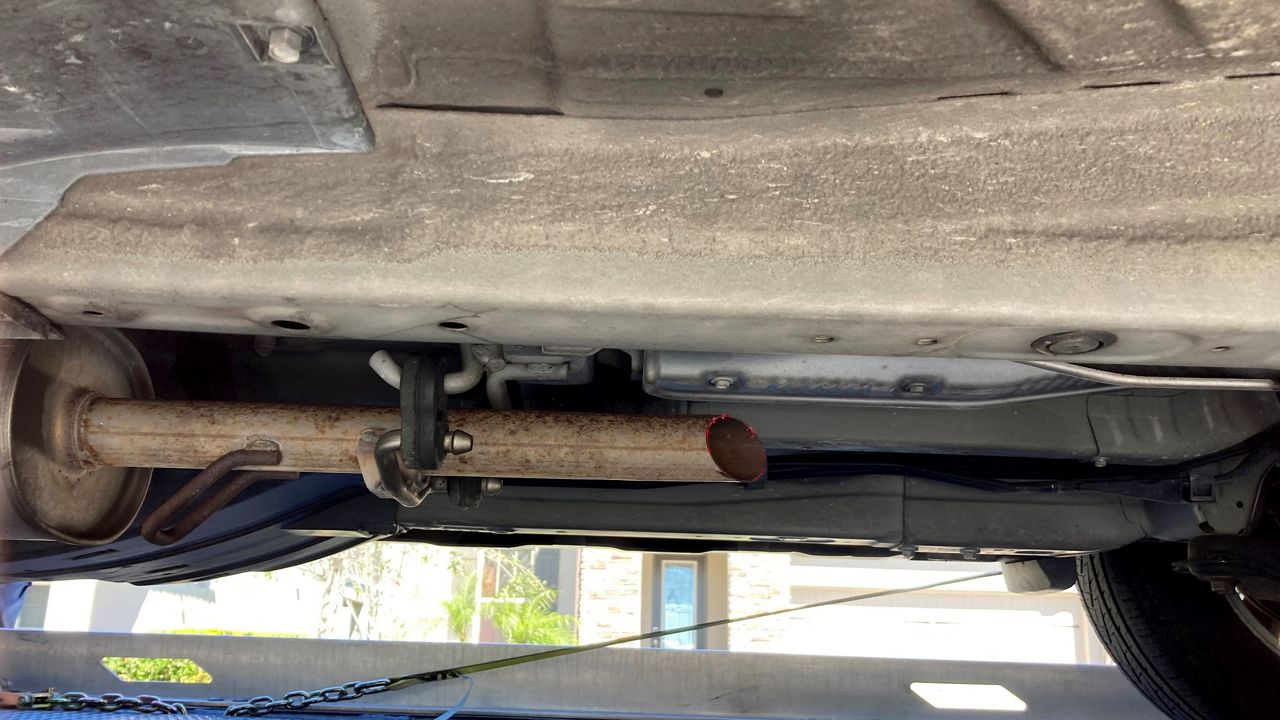 The bottom of Sharon Kaufmann's car showing the missing catalytic converter. (Courtesy Sharon Kaufmann)
Kaufmann is one of many who have filed a police report with OPD.
"There's more than a dozen cases we are working. Each case contains several vehicles and they happen quickly," OPD Detective Matthew Andrews told Spectrum News 13 Monday. "The crime happens very fast and these guys have been very effective at stealing these things."
On Sunday, OPD detectives were called to Universal's Dockside Inn & Suites where several vehicles were targeted. Later in the afternoon, officers found the suspect's vehicles, but what they found were more than a couple converters — they found 31.
"We have a much bigger problem," Andrews stated. "This is not the first group we watched on video, this is obviously not going to be the last group. Seems to be that Central Florida is a target for this specific type of crime."
The two arrested for this case were two 19-year-olds: Jose Antonio Martinez and Terance Elder, both from Texas. Detectives believe they would drive the stolen converters back to their state to sell. The pair are now both facing two counts of grand theft 3rd Degree and two counts of criminal mischief.
Surveillance video provided by @OrlandoPolice shows how quick someone can steal a catalytic converter. These are the two from Texas who were arrested after OPD found 31 catalytic converters in their hotel room Sunday. @MyNews13 pic.twitter.com/zmdIdklHCV

— Spectrum News Asher Wildman (@AsherWildman13) February 15, 2022
Kaufmann's car is at the shop and the expected cost to fix her car will now be about $800 plus the time she can't get back.
"Extremely frustrating, it was devastating for me," Kaufmann said. "This is my vehicle, this is everything, and we had a big trip planned."
Aside from OPD currently investigating the thefts of catalytic converters, Orange County Sheriff's Office tells News 13 they have had at least 51 documented cases of stolen catalytic converters since the start of the year.​
As for the converters that were recovered, the good news is they seem to all be intact, meaning they could be put back on the cars they were stolen from. Unfortunately, OPD believes this case will be part of a multi-jurisdictional investigation and will take time to sort out which converter can belong to who.