ORLANDO, Fla. — A judge in Orange County on Wednesday ordered former NFL running back Zac Stacy to stay out of the state of Florida except for court appearances but denied a prosecution motion to reconsider his release on bond.
---
What You Need To Know
Judge tells ex-NFL player Zac Stacy to stay out of Florida except to go to court


Stacy is charged with aggravated battery and criminal mischief


Former girlfriend Kristin Evans told the judge she fears for her safety


Stacy said he will head to a mental health facility in Colorado on Dec. 1
---
Stacy, 30, is facing aggravated battery and criminal mischief charges after being accused of attacking his ex-girlfriend Kristin Evans in front of their 5-month-old son, according to authorities. The Orange County Sheriff's Office says the incident at Evans' home in Oakland on Nov. 13 was caught on home surveillance camera.
The state's motion to allow Evans to address the judge about the incident was granted.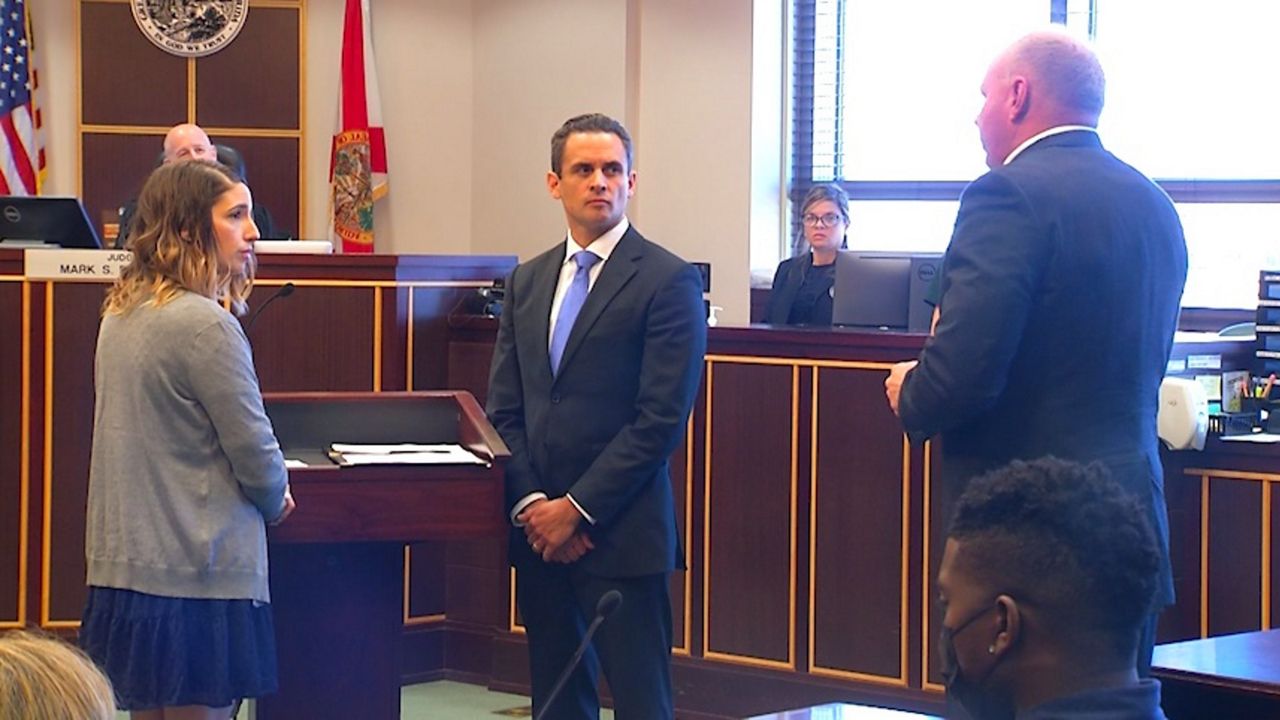 Kristin Evans (left) told an Orange County judge at a hearing in Zac Stacy's case on Wednesday that she fears for her safety and the safety of her children. (Spectrum News/Justin Soto)
"I was slapped, punched, literally picked up and thrown into my TV," Evans told the court. "And then he picked me up and slammed me into my son's bouncy seat by my throat.
"This was not the first time that he's been violent with me. I am afraid for my safety and for my children's safety."
According to a report by sheriff's deputies, Evans and Stacy got into an argument over the weekend, and he became physical.
Stacy was released on a $10,000 bond over the weekend, and the judge did not increase or revoke that bond Wednesday.
"We're satisfied with the fact that he can't come back to the state of Florida without notifying the court, so that does give her a certain level of security," Evans' attorney, Thomas Feiter said.
Stacy and his lawyer had nothing to say after the hearing.
Stacy told the judge that he will live with his mother in Alabama and will move to an inpatient mental-health facility in Colorado for 30 days, starting Dec. 1.