As the dry season moves in and temperatures cool, it's hard to believe Florida can still be impacted by tropical systems. But it has happened. Two hurricanes have struck the state in November, the final month of the season.

The Sunshine State has seen a total of eight named storms make landfall during the month of November, two being hurricanes.
While the most recent was Tropical Storm Mitch, which made landfall near Naples in 1998, the first recorded strike was back in 1935 from a hurricane called "Yankee" due to its very late arrival and unusual movement to the southwest.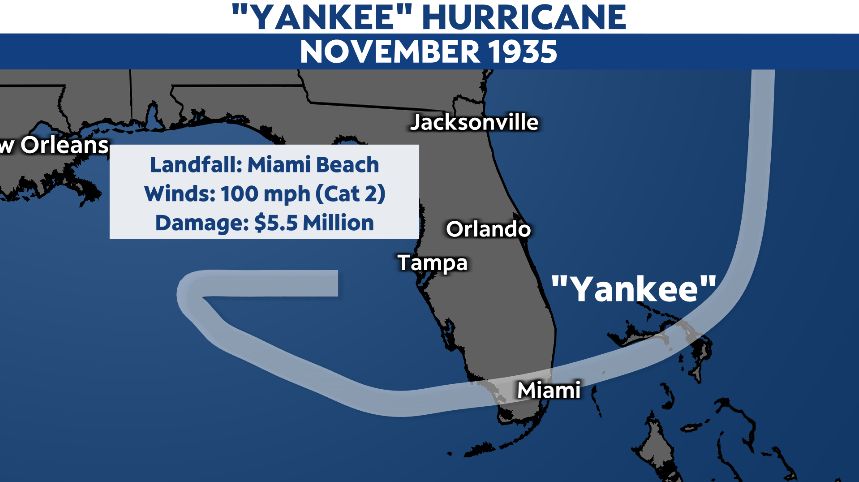 The Yankee hurricane grew into a Category 2 storm with maximum winds of 105 mph. The storm made landfall north of Miami Beach on November 4, with winds of 100 mph.
Extensive damage was reported in South Florida, with portions of Miami Beach severely flooded. Being more rural at the time, the area suffered 5.5 million dollars in damages. Five deaths were also reported from the storm.
The second and much more memorable November hurricane to strike the state was Hurricane Kate back in 1985.
Kate developed north of the Lesser Antilles, then slid south of Florida, grazing northern Cuba. The storm then lifted northward into the Gulf of Mexico.
At one time, Kate was a Category 3 major hurricane with winds of 120 mph.
The storm luckily did weaken as it approached the Florida panhandle, but still roared ashore as a Category 2 storm with winds of 100 mph. Kate made landfall near Mexico Beach on November 21.
Damage from Kate was also extensive. The hurricane produced significant storm surge along the northern Gulf coast with power line damage leaving 90 percent of Tallahassee without power.
Kate racked up to 300 million dollars in damages in Florida.
With the dry season firmly underway and multiple cold fronts diverting any tropical waves away, the likelihood of a tropical system impacting Florida through the end of the season is very low.
So while the threat of a hurricane hitting Florida is low, it can happen and produce significant impacts.