ORLANDO, Fla. — A federal court on Thursday granted former Seminole County Tax Collector Joel Greenberg a May 15 deadline to reach a plea agreement in a case in which he faces 22 new charges — and increasingly has turned up the heat on U.S. Rep. Matt Gaetz.
---
What You Need To Know
Joel Greenberg, charged with child sex crimes, granted May 15 plea deadline


Former Seminole County tax collector is political ally of U.S. Rep. Matt Gaetz


"I'm sure Matt Gaetz is not feeling very comfortable today," attorney says


---
"I'm sure Matt Gaetz is not feeling very comfortable today," Greenberg attorney Fritz Scheller said outside the federal courthouse in downtown Orlando after being asked whether he thought the congressman was worried that Greenberg might make a plea deal.
Greenberg's case has brought scrutiny on Gaetz (R-Florida), as the Associated Press reports both are being examined by federal prosecutors over allegations they may have paid underaged girls for sex with money and gifts.
Gaetz also reportedly is under investigation over allegations he offered a 17-year-old girl gifts in exchange for sex and traveled with her across state lines.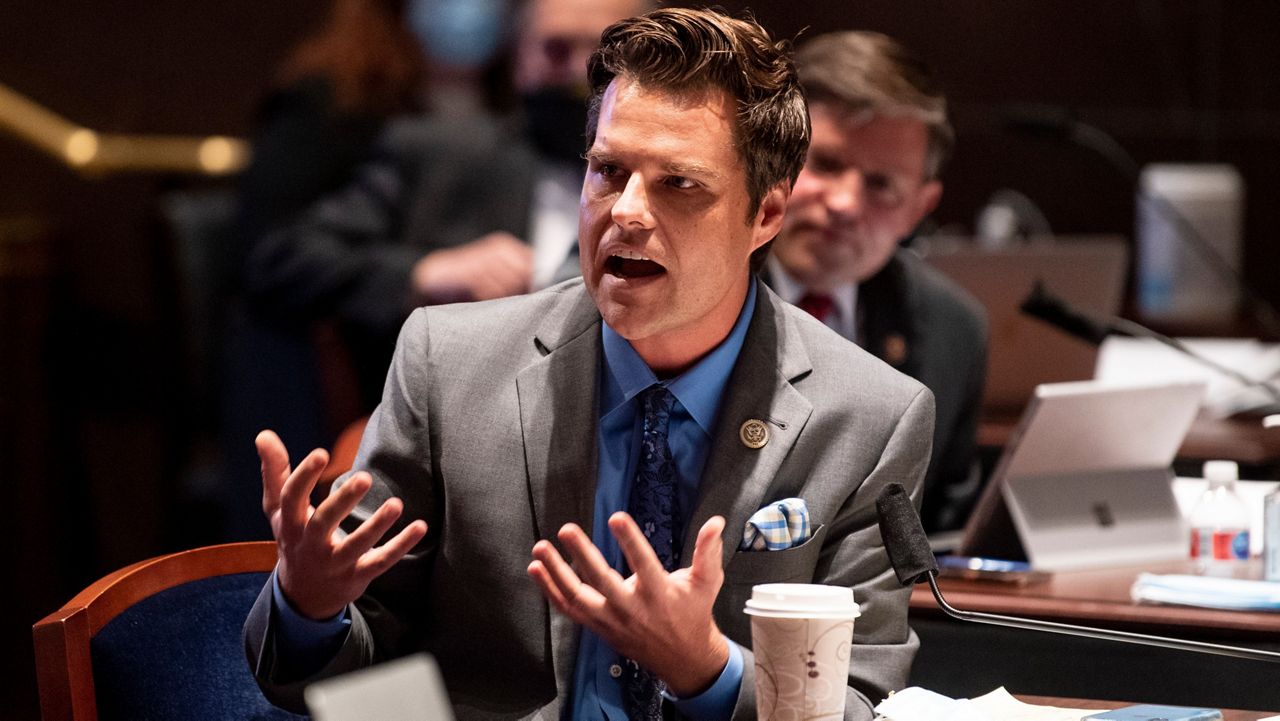 Rep. Matt Gaetz during a House Judiciary Committee meeting in 2020. (Kevin Dietsch/AP)
Greenberg did not appear at Thursday's status conference before U.S. District Judge Gregory A. Presnell at the George C. Young Federal Annex Courthouse in Orlando.
But both the prosecution and the defense made it clear that a plea deal appeared in the works.
"We believe the case is going to be a plea," Assistant U.S. attorney Roger B. Handberg told Presnell.
Scheller told media members after the hearing: "When I get the plea agreement, it's not something I'm going to sign right away. I have to go over it with my client. There's always some pushback negotiation."
Asked whether Greenberg would cooperate with prosecutors, he said, "What you have to see to answer your question about cooperation, one, is there a plea agreement and, No. 2, is there a cooperation provision?"
Greenberg, who has been detained in Seminole County, is scheduled for an arraignment Friday on the new charges in federal court in Orlando. He waived his right to appear.
In all, Greenberg has been accused of 33 crimes, from sex-trafficking involving a minor and identity theft, since he was first indicted nearly a year ago, prompting his resignation as tax collector on June 24.
He has entered not-guilty pleas to all of the charges.
In the latest round of allegations filed by the U.S. Attorney's Office for the Middle District of Florida, Greenberg is accused of swindling $400,000 from his former agency, fraudulently obtaining more than $432,000 in Economic Injury Disaster Loans meant to help small businesses hurt by the pandemic, and bribing an unidentified official with the Small Business Administration.
Scheller, Greenberg's lawyer, spoke so softly at Thursday's hearing, which lasted less than 10 minutes, that reporters craned their necks to hear him.
After the hearing, he joked with reporters on why he couldn't discuss details of the case, citing attorney-client privilege.
"I don't even talk about this case with my wife," Scheller said. "In fact, some of you all tried to reach me through her, and you know uncomfortable it was? Taking in mind that I don't talk to her about the case, she said, 'I got this call about you, a congressman and underage girls.' And so I had a lot of explaining to do."
As for his comment about Gaetz "not feeling very comfortable today," Scheller clarified that moments later, saying that given the media emphasis on the Greenberg-Gaetz relationship, "wouldn't it be obvious to assume that he would be concerned?"
Gaetz has denied any wrongdoing and says he will not leave Congress.
His office on Thursday released a statement from "the Women of U.S. Congressman Matt Gaetz's (FL-01) official office." The statement said, in part: "Congressman Gaetz has always been a principled and morally grounded leader. At no time has any one of us experienced or witnessed anything less than the utmost professionalism and respect. No hint of impropriety. No ounce of untruthfulness."
Greenberg is accused of having a "sugar daddy" relationship with a girl between 14 and 18 from May 2017 to November 2017, though details of the alleged relationship have not been released. In court filings, federal prosecutors say Greenberg "recruited, enticed, obtained, maintained, and patronized" the teen.
Greenberg also faces charges related to an alleged identity theft scheme against a political foe.
While still in office, Greenberg left behind fingerprints and DNA on letters while posing as a student and falsely accusing the foe of sexually abusing a child, records allege.
On March 2, as Seminole County sheriff's deputies tried to arrest him for violating bond conditions, Greenberg "made suicidal comments," threatened use of firearms, and said he had "improvised explosive devices," according to a March 3 incident report.
Greenberg stated "at various times that he would take pills... Joel also stated he had hidden several items in his anal cavity," the report said.
During negotiations with deputies, Greenberg "opened the front door of the residence, and threw a bag full of medication out into the driveway, before retreating back into the residence and closing the door," according to the report filed by Seminole County Deputy Jerome Grunat.
Greenberg emerged from the home "after several hours of negotiation," the report said. Because of his suicidal threats, deputies took him to the emergency room, then to Seminole County's John E. Polk Correctional Facility, it said.
On Thursday, Scheller said his client was doing as well as he could under the circumstances. He said he couldn't say where Greenberg was now being held.
"Any jail is not good," Scheller said. "It's not like he's in there listening to Chopin and watching Netflix, but as to the jail itself, I can't give you that information. I will tell you this... I've spent a lot of time of time in jails. They're just abysmal. I don't think people really appreciate how bad it is."