TALLAHASSEE, Fla. — An unfinished painting on an office wall in the Florida Capitol depicts a pensive young woman in traditional Persian headdress. The woman holds a stick to an ear and sits in a garden bathed in water, flora, and color.
---
What You Need To Know
State Rep. Anna Eskamani draws on her late mom, an immigrant, as inspiration


Democrat is outspoken on social media, regularly calls out GOP governor


High school AP government teacher describes Eskamani as a "friend to everybody"


---
It's the work of Nasrin Eskamani, an Iranian immigrant, painter, seamstress, low-wage worker, wife, and mother of three who died of cancer in 2004.
Seventeen years after her mother's death, Florida state Rep. Anna Eskamani makes that painting the centerpiece of her office in the Capitol.
"It was the last painting she was working on," Eskamani said of her mother. "She never had a chance to finish it. It's up to us to finish that canvas for her."
Through frequent strokes of boldness, especially on social media, Eskamani appears resolved to fit low-income workers, underrepresented neighborhoods, and Florida's most vulnerable residents — people who struggle, as her mother did — into that painting.
A Democrat, she regularly calls out Republican Gov. Ron DeSantis on issues including the state's unemployment system, anti-abortion laws, and his handling of the coronavirus pandemic. Other targets have included corporations, the patriarchy, and the National Rifle Association.
She also uses Twitter to trumpet causes including transgender rights, affordable housing, and unemployment compensation.
At same time, she employs Zoom — sometimes well into the evening — to connect with constituents and causes.
On those calls, you might hear her say things that you don't often hear from politicians, such as "This is so cool," or "I'm down with that." She's a Millennial, after all.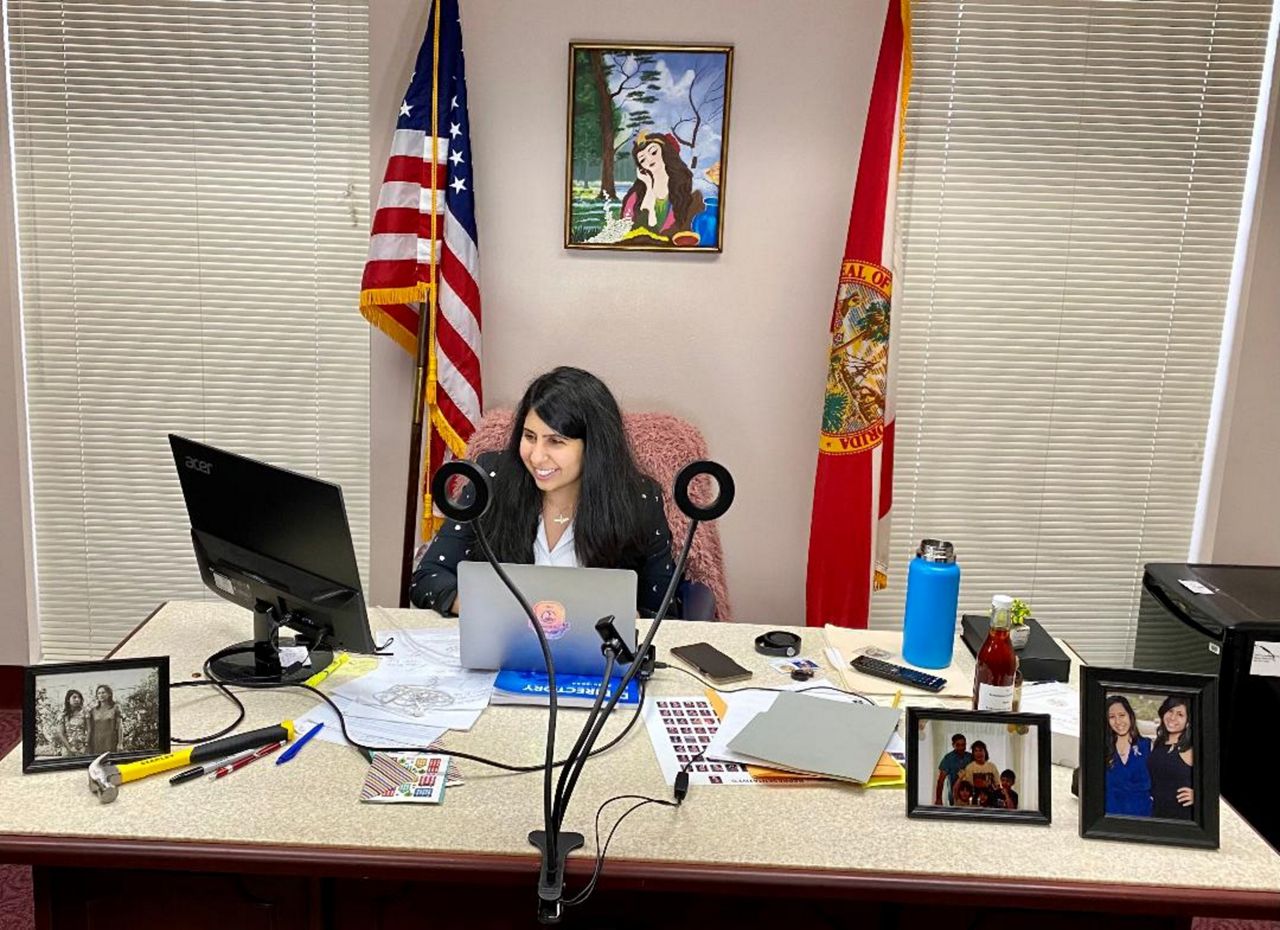 State Rep. Anna Eskamani of Orlando participates in a Zoom call in her Capitol office. Notice that on her desk she keeps a hammer, which she has turned into a symbol, especially on Twitter. (Pete Reinwald/Spectrum News)
---
Progressive groups in Florida like what they're seeing and hearing, calling Eskamani, at age 30, a rising star in Florida politics. Now in her second term in the Florida Legislature, she even has considered challenging DeSantis for governor.
"I think she has a strong future in the Democratic Party in Florida," Patricia Farley, president of Democratic Women's Club of Florida, told Spectrum News this week. The organization named Eskamani, once president of its Orlando chapter, its legislator of the year in 2020.
A fellow Democratic representative from Orlando, Carlos Guillermo Smith, hailed Eskamani as a champion of "honest people-powered progressive leadership," which he said "has really redefined what it means to be a state representative."
"Everybody wants to be like her," he said of Eskamani, "or they want to be her."
Always-On Social Media Presence
If you consume media, you won't miss Eskamani. She regularly makes herself available for podcasts and broadcasts, and Time Magazine included her on its 2018 "The Avengers" cover of women who ran for political office for the first time.
Mostly, you'll find her on social media, where she frequently shares her policies and her story as the first Iranian American to serve in the Florida Legislature. Her Twitter feed includes a tribute video to her mother, whose "courage and resilience inspires me to be brave, and to fight for Florida families," Eskamani says.
Through Twitter, Eskamani made her way into national news and an appearance on MSNBC last week after she tweeted details about contacts she had in 2018 and 2019 from now-embattled former Seminole County Tax Collector Joel Greenberg. The tweets included references to a "creepy" phone call, as some have called it, from Greenberg that Eskamani said involved also-embattled U.S. Rep. Matt Gaetz of Florida.
"No woman or girl should feel uncomfortable in any environment," she told Spectrum News at the time.
"There really isn't an issue that I'm scared to touch," Eskamani told Spectrum News before the Gaetz news broke. "Obviously, I have my priorities because I'd rather spend hours debating access to affordable housing and finding a solution on that subject vs. something internationally related where it's kind of out of my reach. But at the end of the day, every issue that comes in front of you, you can't be shy to take a stance. And you've got to listen to your gut."
How She "Reclaimed" a Hammer
Eskamani's Twitter profile sports an icon of a hammer, and you figure it symbolizes that she's pounding away at her opponents or at injustice — or maybe that she's working for her constituents.
But neither nails it.
The hammer stems from a 2018 campaign ad that called her "too risky for Florida's future." The ad showed her with a microphone to her mouth and, inexplicably, an oversized hammer superimposed into one hand.
The same ad ran against state Rep. Geraldine Thompson, a Democrat who also represents part of Orange County.
Rather than heave the hammer, Eskamani made it her signature, hoisting one as she celebrated her first election victory.
She then got a tattoo of a hammer behind her left ear. She tweeted a photo of it and wrote: "… may my new tattoo be a reminder of resilience & hope for a future where patriarchy is smashed and all glass ceilings are broken."
"We reclaimed it as our own," said Eskamani's twin sister and roommate, Ida Eskamani, who volunteered on both of her sister's campaigns, the first time while she worked as chief of staff for Rep. Guillermo Smith.
"A Working-Class Love Story"
Their parents met in the 1980s as young Iranian immigrants who happened to work different shifts at an Orlando doughnut shop. Their mother heard their father's accent and asked where he was from, then spoke to him in Farsi, and it went from there.
"It's a working-class love story, right?" Ida said.
Their mother, Nasrin, and father, Behrooz, were always working as they raised their three children including son Arya, now 35. Nasrin couldn't use her Iranian accounting degree in the U.S., so she worked in the fast-food industry, then at Kmart.
When his kids were young, Behrooz earned a degree in electrical engineering from the University of Central Florida and landed an entry-level job on the Space Coast. To make ends meet, he'd work weekends as a customer-service representative for Walt Disney World.
Ida Eskamani remembers hearing her parents talk politics and listening to BBC News. That gave the sisters an awareness of global current events before age 10.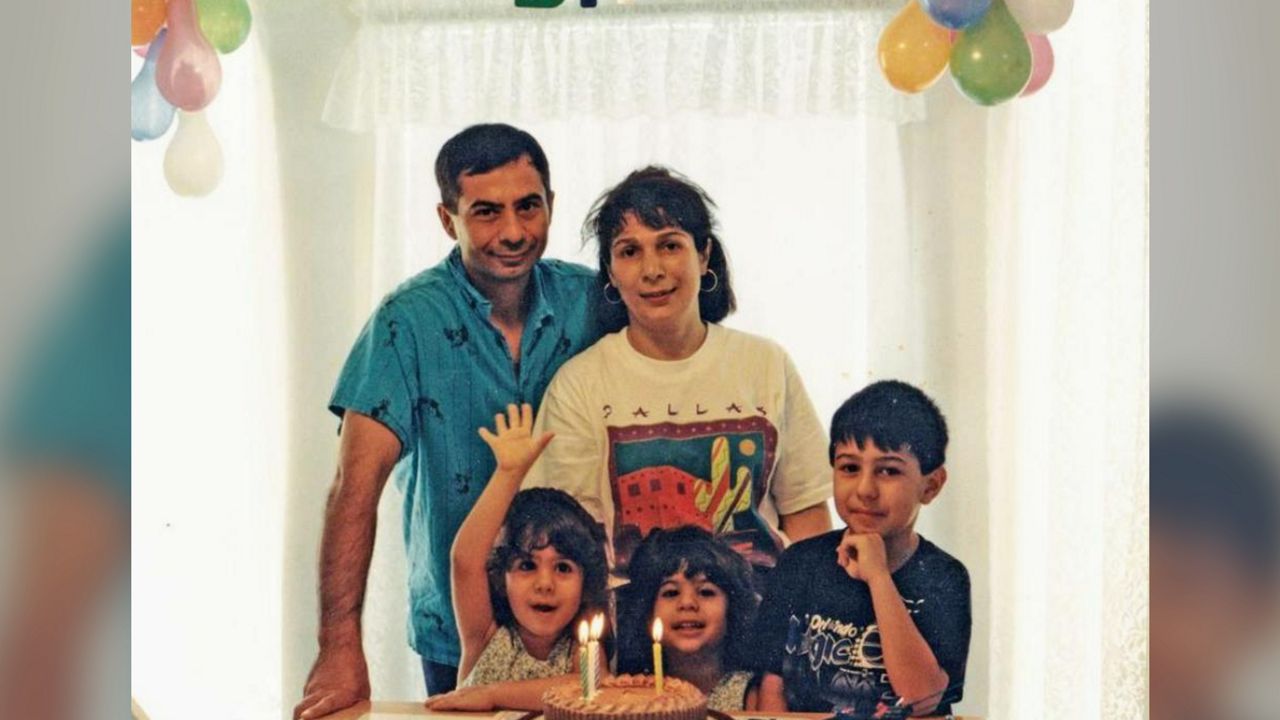 Twin sisters Ida and Anna Eskamani celebrate their 4th birthday with father Behrooz, mother Nasrin and brother Arya. (Photo courtesy of Ida Eskamani)
---
In about the fifth grade, Ida said, she and Anna became such big fans of Al Gore that they had his campaign posters in their bedroom.
At Orlando's University High School, she said, the sisters got inspiration from an advanced-placement government class, especially from teacher Christopher Norris, that they took in separate semesters during their senior year.
Norris recalls structuring the class as a political entity in which students passed laws that determined when homework was due, for example.
Norris served as president. Classmates elected Anna as vice president.
"Anna pretty much single-handedly was able to kind of get all of these groups to come together and pretty much work together," Norris said. "Anna was kind of like a friend to everybody. It was less in a political way and more of just in kind of an enhanced sense of humanity."
Eskmani said she had no intention for running for political office until 2016, when Donald Trump was elected president.
In her 2018 legislative race, she managed to flip a Republican district; her House District 47 includes much of downtown Orlando and areas north and south of it. She retained the seat in the 2020 election with a victory over Republican Jeremy Sisson.
"Every day, it's hard to believe that I'm even here," Eskamani told Spectrum News in her office. "It's very humbling to have a chair at these tables. There are a lot of folks who don't want me here. There are a lot of folks who never thought I could be here."
Surroundings That Define Her
Eskamani's Capitol office pays tribute to her heritage, with a Persian rug, Persian pillows, and a book of works from Rumi, the 13th century Persian mystic and poet.
In April, she shared on Twitter photos and a video of her, Ida, and others observing Nowruz, the Iranian and Persian New Year. Eskamani publicly embraces these customs even as the U.S. government and many of its citizens have maintained suspicion, sometimes hatred, toward Iran's government ever since the Iranian Revolution of the late 1970s.
"I think that so many folks struggle to know who they are," she said, "and I never really struggle with that because I had this foundation at a very young age, to be proud of my culture identity vs. ashamed of it."
Through photos or framed posters, her office also pays tribute to women, her family, her accomplishments, and her alma mater, the University of Central Florida, where she's working on a Ph.D. in public administration.
You wonder how she squeezes it in.
When Spectrum News visited last month, Eskamani remained in her office at 6 p.m. on Zoom calls regarding water-quality issues and a vaccine event for the LGBTQ+ community.
She said she had taken an hour to catch up on emails from her regular job as state strategic adviser for NEO Philanthropy.
"It just amazes me how many things she's able to get done in a matter of a week," Rep. Thompson told Spectrum News. "Her energy and her focus are just inspiring."
Work During the 2021 Legislative Session
Outside of her legislative work, Eskamani has worked with colleagues including Rep. Guillermo Smith and yet another fellow Democratic state representative from Orlando, Travaris McCurdy, to bring workshops and vaccination events to all of their communities, particularly the underserved.
"She's not limited to one base, one demographic, one populaton," McCurdy told Spectrum News. "She's not even limited to her district. She has a far and wide reach."
Bills that she has sponsored this year include one to raise unemployment benefits from $275 a week, one to remove certain requirements of abortion clinics, and one that would grant certain legal rights to the natural environment.
Those bills stand among 25 from her that have failed to progress this legislative session in the Republican-controlled Florida House of Representatives.
She gets her voice heard elsewhere, including on the House Ways and Means Committee, on which she serves as ranking Democratic member.
During a March 31 meeting of that committee, Eskamani asked numerous questions of stakeholders and of Rep. Nick DiCeglie (R-Indian Rocks Beach), the sponsor of a bill on impact fees. She asked so many questions that at one point she laughed, as if to acknowledge that she asks a lot of questions.
"If you want to know how a bill or a policy affects working-class Floridians, talk to Anna," Rep. Guillermo Smith said. "I don't know how she knows so much about so many things or when she ever sleeps, frankly."
Spectrum News has tried to contact numerous House Republicans about their experiences working with Eskamani. We have yet to receive any comments.
She works well with Republicans, her Democratic colleagues say.
"If there's any member that every other member of the Legislature knows on a first-name basis, it's Rep. Eskamani," Rep. McCurdy said. "And while you may not agree with her, you have to respect her approach and the way that she presents herself and her aruguments."
About That 2022 Election Thing
Months ago, Twitter observers began to chirp that Eskamani was considering a 2022 run for governor.
"A lot of people have asked us to run," Eskamani told Spectrum News. "I haven't made a formal decision yet, and, candidly, I do think Florida is a very tough state for Democrats to win statewide."
She added: "I will say that my inclination is to think more long term and to focus on building power throughout the state, for everyone vs. putting my name in a statewide race like that."
She says she'll keep reflecting on her mother, who died when she and her sister were 13 years old, and on the unfinished painting in her office.
"Those experiences of trauma and loss are very grounding for me, and it forced me to grow up really fast," Eskamani said. "But I'm also in this place where I want to live twice as hard, for my mom who is no longer here. And I don't want anyone to struggle like my mom did, or struggle like I did."
Ida added: "My sister says this quite a lot: Death is the end of a life, not a relationship. And I think that through my sister's work… she's in some kind of way getting closer and closer to our mother because she's honoring her legacy in such a beautiful way."