LAKE BUENA VISTA, Fla. — "Drawn to Life," the Disney-inspired Cirque du Soleil show at Disney World, is relatively new, but remains in a constant state of evolution.
The show debuted at Disney Springs in November 2021, replacing another Cirque du Soleil production, the long-running "La Nouba." Now just over a year old, "Drawn to Life" looks and sounds a little different than it did when it opened.
The storyline remains the same: A young girl named Julie goes on a journey of self discovery after finding an unfinished piece of animation left by her late father, who was a Disney animator. But the creative team has added a new acrobatic act called Icarian Games to the show and modified an existing act to include a trio of aerial hoop artists. Both revisions debuted last month.
On Thursday, ahead of World Circus Day on April 15, a special performance of "Drawn to Life" was held to highlight the changes.
During the Icarian Games section, two pairs of performers — who come from Ethiopia — "juggle" their partners using their feet. The act pays tribute to Disney's animated forests and creatures, which includes performers wearing costumes that depict rabbits and deer.
Icarian Games also comes with a new musical composition that uses a live vocalist — a return to a more traditional Cirque du Soleil sound. The lyrics, written by the vocalist, also infuse elements from the different languages spoken in Ethiopia.
Adjustments to the score, composed by Benoît Jutras, can be found throughout the show, but still balance the Disney influences with the Cirque du Soleil touches.
"You'll notice that throughout his original score, you'll hear little snippets of Disney music that kind of take us back to our childhood, (that) help with the emotional impact of the show that Julie is taking," said bandleader Thomas Lipps.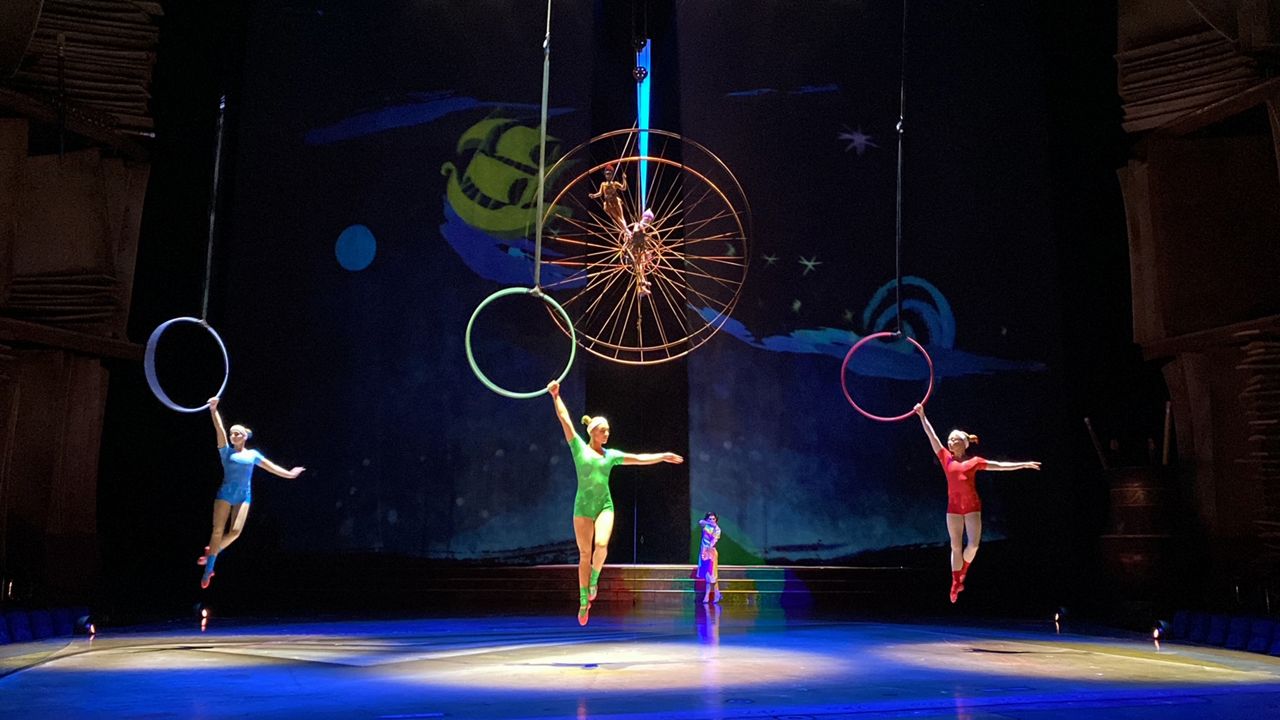 The team also made changes to the Dream of Colors act. The original version of the segment, which pays homage to the female ink and paint artists in the early days of Disney animation, featured human trapeze artists. Those performers are still part of the act, but are now joined by a trio of aerial hoop artists.
"One of the big-picture things we realized is we didn't have a lot of aerial stuff in the show," said artistic director Tim Bennett. "And it's a big open space. So after watching the show for a while, we thought, 'It feels empty in some spots, especially that particular act.' The acrobatics is all the way upstage."
"We wanted to add something that was both aerial and that brought the act forward a little bit and complemented what was going on upstage," he added.
Updating aspects of the show is nothing new for Cirque du Soleil. Company manager Heather Reilly said the creative team behind a show will often make changes from time-to-time — adding or replacing acts — as a way to keep it fresh.
"After a show has been open for a while, we see what's been working, we see what needs to be tweaked and we continue to make improvements as we move ahead," she said.
Earlier this year, "Drawn to Life" introduced another change to the show by adding matinee performances on Sunday at 1:30 p.m. and 4 p.m. On Wednesdays through Saturdays, it offers evening performances at 5:30 p.m. and 8 p.m.
Since its premiere, "Drawn to Life" has had 650 performances and entertained more than 600,000 guests, according to Cirque du Soleil officials.
For tickets and showtimes, visit cirquedusoleil.com/drawn-to-life.